artvideoKOELN is happy to present
artvideoKOELN – audiovisual experiences 03 – UK 2016
featuring the complete "Refugee!" Film Collection
@ Festival x-24
16-17 July 2016 – Gainsborough/UK
https://www.facebook.com/x24festival/?fref=ts
http://www.slumgothic.co.uk/
The event is at a place called x-church in Gainsborough, England. Our project is a visual arts led community building with a vibrant youth arts project. Each year at x-24 we create an event that is a combination of more usual festival things like music, food and drink plus a strong visual arts component. This year we are running a 24hr Cinema showing the work of many artists responding to a broad idea relating to 'separation/boundaries/barriers'. The response to our call out for work has been very good so we are confident that we will be able to encourage people to think a lot about these very contemporary (and timeless) issues. This will be particularly pertinent because our town is situated in Lincolnshire where two thirds of people voted OUT in the recent BREXIT referendum!

The event will be run by Slumgothic Ltd which is a not for profit arts organisation that was started ten years ago by two of us who used to run a more conventional white box contemporary art gallery.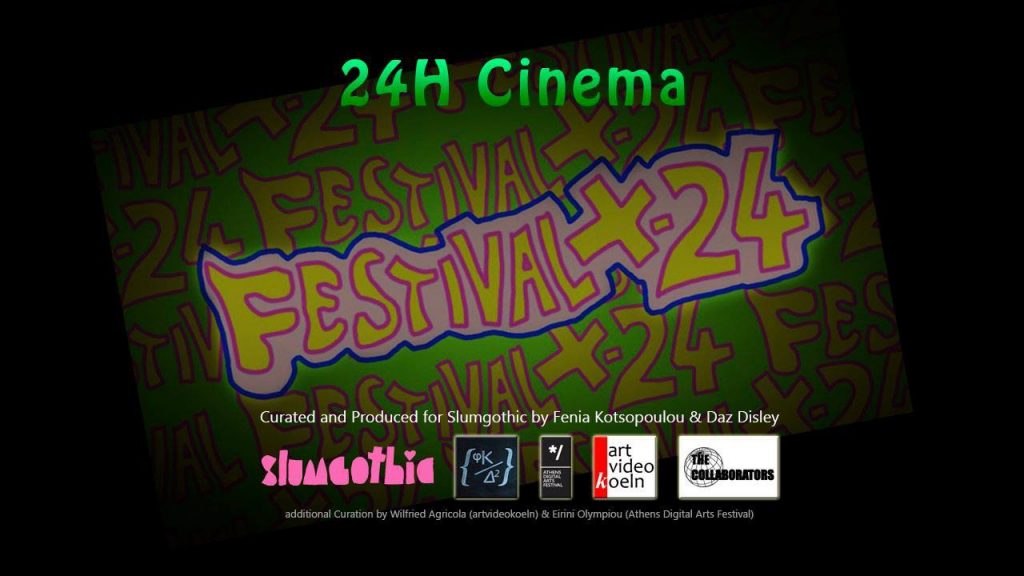 Official trailer:
Trailer: 24 HR CINEMA || Festival x-24 || 16th-17th July 2016 || x-church, Gainsborough UK from Fenia Kotsopoulou on Vimeo.
Program 1
Aline Biasutto (France) – The Sirens Chant, 2013, 11'02
Panagiotis Kalos (Greece) – Gasping for Air, 2015, 1:36
Anni Kaltsidou (Greece) – The Refugees, 2015, 2:48
Paolo Bandinu Italy) – No Country, 2015, 2: 21
Fenia Kotsopoulou (Greece) – Borderline, 2015, 3:06
Beate Hecher/Markus Keim (Austria) – Mare Mediterraneum, 2015, 9:00
Rrose Present (Spain) – ODE Europe II, 2014 , 03:12
Miss Muffett aka Lisa Seidenberg (USA) – Flight, 2015, 3:51
Brigitte Neufeldt (Germany) – Paulos, 2015, 25:00
Program 2
Wilfried Agricola de Cologne (Germany) – Shatila-Lost Island, 2016, 20:00
Zlatko Cosic (Bosnia) – South Slavic Requiem, 2015, 6:00
Ausin Sainz (Spain) – Land, 2015, 3:52
Pekka Niskanen (Finland) – Laoufi, in Konnunsuo detention unit, 2015, 10:00
Haleh Jamali (UK) – Crossing the Line, 2016, 5:40
Mariken Kramer (Norway) – "Patterns of Inclusion", 2013, 9:36
Hermes Mangialardo (Italy) – Frontiers, 2011, 2:40
George Symeonidis, Artemis Stathakou (Greece) – "Refugee", 2015, 04:08
Samantha Harvey (UK) – Borderline_, 2015 , 2:46
Manuel Granados (Spain) – Dancing Man, 2015, 1′ 07″
Program 3
Mauricio Saenz (Mexico) – Flight simulator, 2014, 4:17
Cristobal Catalan (Spain) – Res Nullius, 2014, 3:46
Inês von Bonhorst (Portugal) – "Impetus", 2013, 7.29
Maciej Piatek (Poland) – Love in the age of the EU / UK /2014, 2,25
Paul Heintz (France) – Nearer to You, 2014, 3:06
Karin Till (Australia) – Walk The Talk, 2015, 2: 46
Anna Knappe (Norway) – Three Ways to Escape – Mohajer, I (Amir), 2012, 07:08
Ayelet Salter (Israel)- Vermeer in The West Bank, 2006, 3:28
Stephan Gross (Germany) – "Love in the time of the EU", 2014, 5:57
William Peña Vega (Colombia) – Unknown Street / Calle Desconocida, 2006, 7:15
Gabriele Stellbaum (Germany) – Song of Myself, 2015, 1:54
Program 4
Marc Neys (Belgium) – 35°30″ 35′ N, 12° 36″ 0′ E, 2014, 03:48
Nelton Pellenz (Brazil) – Atlantic – Atlântico, 2015, 08'08"
Amir Kabir Jabari (Iran) – Domiz Camp, 2015, 3:11
Jan Szewczyk (Poland) – Day of Rage, 2011, 02:58
Farid Hamedi (Rohina) (Iran) – The Smoke and the Dream, 2015, 13:24
Anna Knappe (Norway) – Three Ways to Escape – Mohajer, II (Reza), 2012, 05:57
Aliénor Vallet (France) – Chronicle of the 6th reach, 2013, 7
Quentin Bruno & Clé Hunnigan (Belgium)- Lost in the Jungle, 2015, 6:42
Theodoris Trampas (Greece) – Scorched Earth, 2015, 14:53
Parya Vatankhah (Iran/France) – Not Read, 2014, 5:14